We have stepped into the future of the internet of things and tablet control is just the beginning.
In late July, Harmon's was contacted by a partner to come to Six Bends and reinvigorate their existing AV control system. The system in place consisted of 2 projectors, that had wall plates for an HDMI connection as their only input source. A sound system with 2 wireless microphones and an wall controller which would only control to volume of the microphones. We start had to think of a solution that offered flexibility and ease of use as many different groups use this room for functions weekly. We decided upon the K-Touch system by Kramer Electronics. K-Touch consists of a tablet (iOS or Android) and a network to connect AV hardware with the user in a manner in which they don't have to be a systems engineer to make an adjustment or change an input.
First, we wanted to be able to send the same inputs; Direct TV, Music Videos (that are constantly looping in the showroom) and both HDMI wall plates to either of the projectors. For this we used the Kramer VSM-4x4HFS, this is a seamless matrix switcher which allows multiple outputs to use the same or different inputs all depending on what the user wants to view. Bonus, this switcher is made by Kramer Electronics as is the K-Touch control system. This should work fine for the Tablet control end goal. Perfect, we have accomplished getting all the video inputs to the projectors without being tied to a single input source.
Now what about turning those projectors on and off? For this we utilized another Kramer product the FC-22 IP. This box when connected to the network allowed us to send simple commands ie. on/off via the serial port on the existing projectors.
For audio we have two microphones in the room as well as the video sources. The mixing here was done by a Shure SCM820, this is an effective rack mount mixer that allows IP (network) control. To get the audio from the desired source, for example an HDMI wall-plate/Direct TV etc. we had to take anther output of the Kramer VSM-4x4HFS (switcher) and put an active audio extractor inline (HDMI to RCA). This would allow us to make that output of the VSM as a audio source selector. In the Pictures below you can see how this translates to the end user. Simply, four buttons to select what they want to hear in the room with a master volume control and some dynamic text to ensure they are aware of what they should be hearing.
Onto the iPad interface. Shown here is the simple "welcome" screen of the iPad interface. As you can see this allows full customization, anything you can think of we can put here.
After interacting with the welcome screen the user lands on the main page of the control interface. Most of the room control is on this page. You can change what you are viewing on either projector, turn the projectors on/off, raise the volume of your selected audio source (shown here as Direct TV), even the microphone volume is accessible on this page. Now what if you wanted to change the channel? Well, everyone knows the frustration of having more then one remote, so we added that in the control interface! Just tap the familiar looking icon that is an image of a standard Direct TV remote and you are taken to the page of controls.
As the library of K-Touch compatible devices grows, we will continue to install & support these systems. They offer a streamlined solution to the ever expanding issue of having an abundance of remote controls / volume knobs etc.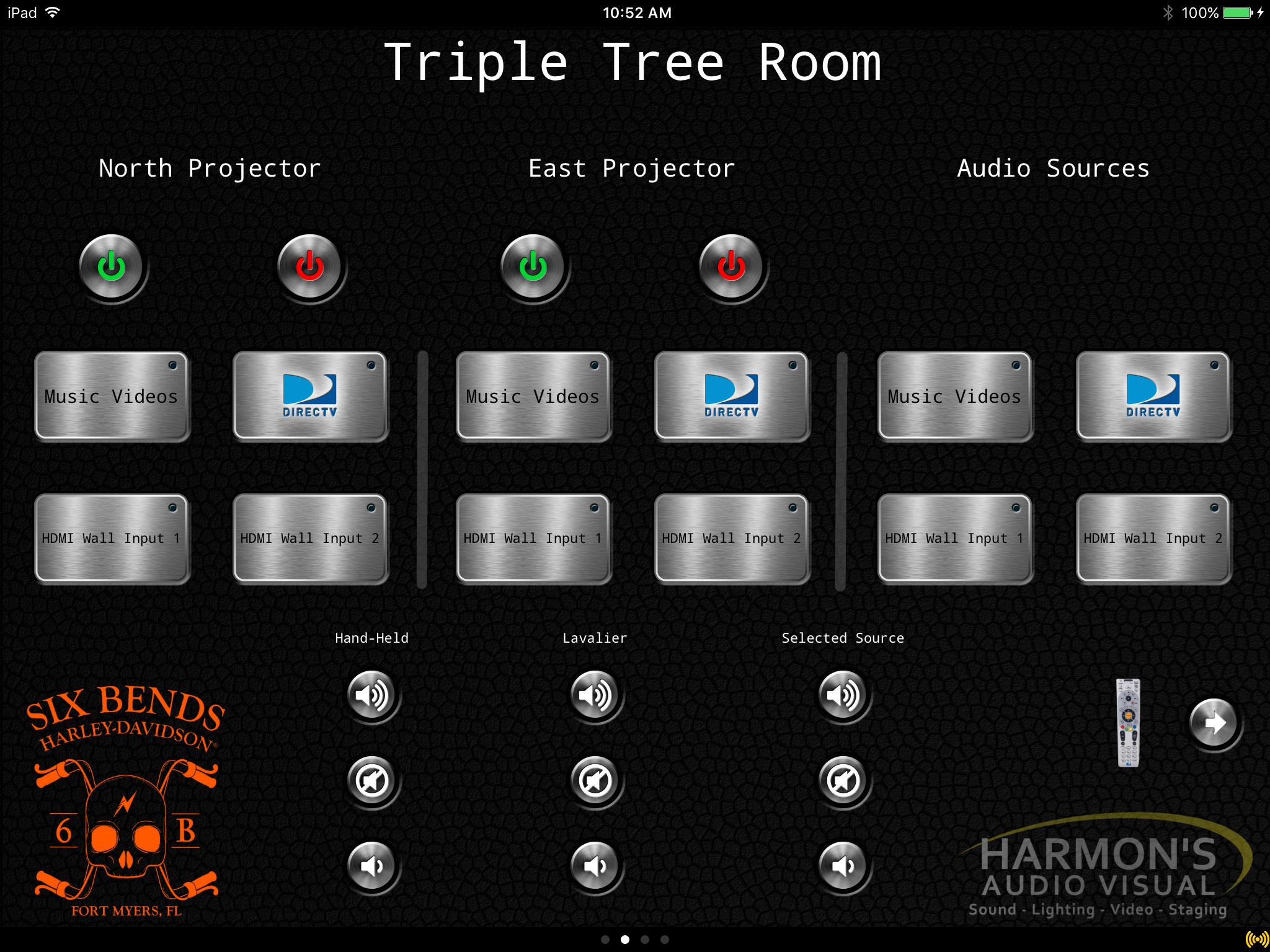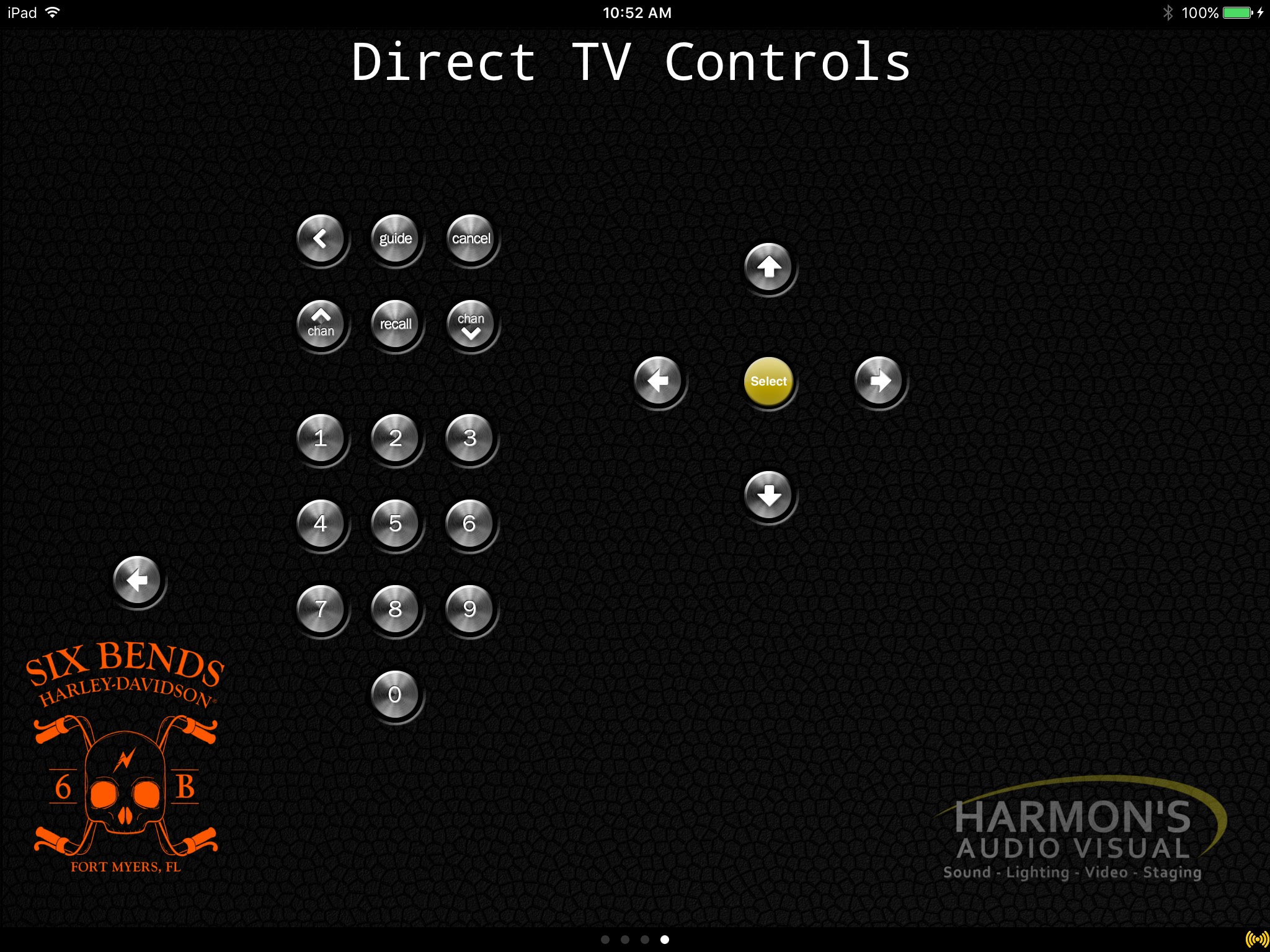 If you are curious to know more about this system or how it could be used with your existing equipment please contact us!