Digital Projection M-Vision 930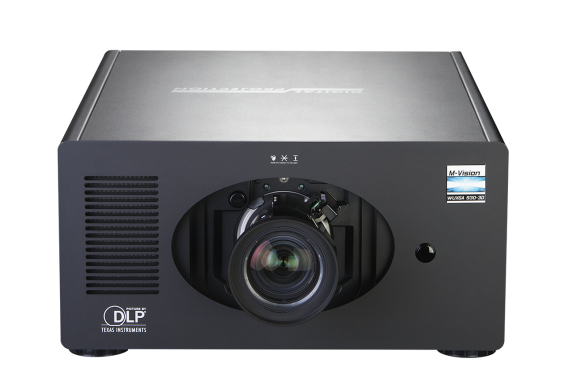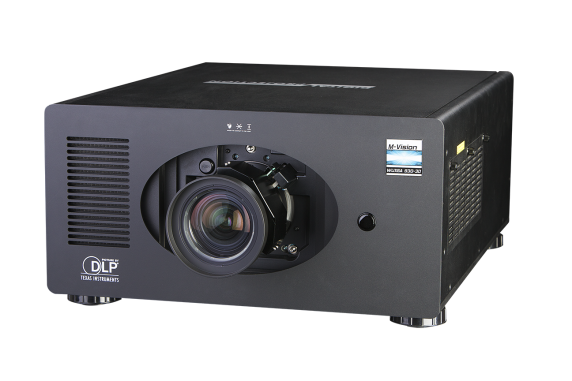 Specs & Key Features
WUXGA 1920 x 1200 Native
16:10 Aspect Ratio
Dual Pipe Processing: Two sources in parallel for Left and Right Eyes.
Cornerstone, Vertical & Horizontal Keystone, Pincushion & Barrel, and Image Rotation.
Blanking control for custom input window sizing.
Non-linear Warp adjustment by moving points on an interpolated grid.
HDMI v1.4
Dual Link DVI-D
HDBaseT
VGA
Component Video (BNC or RCA)
Motorized Lenses with Shift, Zoom & Focus control
Weight (without Lens) 63.1lb
World's brightest single-chip DLP projector.
With accelerated contrast performance and active 3D capabilities with up to 144Hz refresh rate, the M-Vision 930 offers features normally associated with high-end 3-chip DLP systems at a single-chip price point. The incomparable brightness and 6-segment color wheel produce an image quality and brightness unrivaled in the single chip projector market. Dual HDMI 1.4, DVI inputs enable the latest high speed video delivery. HDBaseT connectivity further augments the M-Vision 930's input options, allowing for the transmission of uncompressed High Definition Video over a CAT5e/6 LAN cable.
Imaging versatility is a key deliverable with the M-Vision WUXGA 930, with Edge Blend and Geometric Correction included as standard features. Impressive installation flexibility, by way of a complete suite of professional lenses offering throw ratios from 0.84:1 to 4.00:1, is yet another critical feature within the new display.
NOTE: Additional Lens options available, please contact us to discuss your requirements.